Amber Sound News
National Adoption Week 2014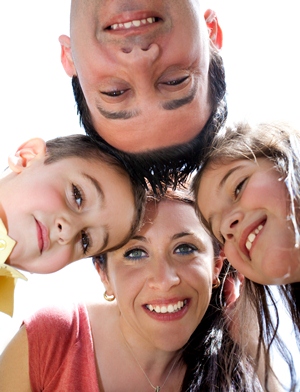 HAPPY FAMILY: Adoption can offer children in care a secure and happy home.

It's National Adoption Week from 3 - 9 November and it's the perfect time to find out more about what it means to become an adoptive parent.

There's around 630 children in care in Derbyshire and for many of them adoption is the best way for them to have a permanent, secure and happy family.

Our Cabinet Member for Children and Young People councillor Kevin Gillott said:

When you adopt, you take on all legal rights and responsibilities for a child.

"It's a lifelong commitment and, like all parenting, can be challenging but also incredibly rewarding."

We are particularly looking for homes for children with disabilities, sibling groups and older children.

Adoptive parents must be:

-Over 21 years old
-Legally resident in the UK for at least 12 months
-Fit, healthy and energetic enough to provide a child with a family for their childhood and beyond
-Able to provide love, empathy, commitment and understanding
-Be flexible enough to adapt to the needs of a child who may have experienced significant trauma.

You might not know . . .

-There is no upper age limit to adoption, we'll consider it on a case by case basis
-You don't have to own your own home − you could be in rented accommodation
-You do not have to be in employment
-You can be single or in a relationship, married, in a same sex couple or in a civil partnership
-You don't have to be a parent already or qualified in any specific way
-A disability is not necessarily an obstacle to adopting.

We will look at your individual circumstances in order to help you decide if adoption is right for you and your family.
You can start your application online at www.derbyshire.gov.uk/applytoadopt (opens in a new window)

You can also find out more about adopting, support and training at www.derbyshire.gov.uk/adoption (opens in a new window) or call 0800 083 7744.



by Derbyshire County Council
31 October 14 | Amber Sound FM News
Top Five News Items
National Adoption Week 2014
It's National Adoption Week from 3 - 9 November and it's the perfect time to find out more about what it means...

Bonfire celebrations during strike action
Derbyshire Fire and Rescue Service (DFRS) is urging everyone to take extra care this weekend, especially if planning an early bonfire night...

Clean Up Success
Clean Up project success in a Ripley walkway that was once avoided by residents. Derbyshire County Council worked with the police, local council...

Man charged in connection with an alleged threat against an army cadet in Belper
A man who allegedly threatened an army cadet in Belper on Saturday has been charged with a public order offence. On Saturday morning...

Witness appeal after collision in Ripley
Police are appealing for witnesses to come forward after a collision between a van and a car in Ripley. A flat bed...