Amber Sound News
New motorbike magazine launched as part of summer safety campaign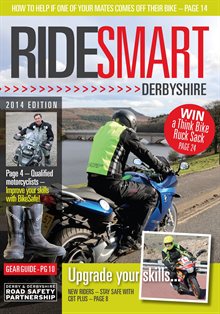 A new free safety magazine for motorcyclists in being launched as part of Operation Focus which aims to reduce rider deaths and injuries on Derbyshire roads.

'Ride Smart' will be launched by Derby and Derbyshire Road Safety Partnership on Easter Sunday (20 April) at the partnership's Motorcycle Meet in Matlock Bath's Pavilion car park.

Riders dropping by between midday and 3pm can pick up a copy of the magazine and learn about the partnership's training schemes for new and qualified riders.

Operation Focus is due to be launched on Good Friday (18 April) and will run on weekends and selected evenings until September. During that time, officers will be patrolling routes popular with bikers and working with the biking community over the summer months.

Chief Inspector Tracy Lewis, head of roads policing in Derbyshire, said: "Comparatively speaking, riders make up the largest proportion of those killed or seriously injured on Derbyshire roads because there are far fewer motorcycles on our roads than there are cars. During Operation Focus, we will be speaking with riders about the dangers of speeding and will take enforcement action in the more serious cases.

"Derbyshire police are keen to ensure our roads are as safe as possible and the Ride Smart magazine will be really helpful to all riders, even those that are more experienced."

In 2013, nine motorcyclists were killed on Derbyshire roads.

Andy Adlington, the partnership's motorcycle safety officer, said: "Ride Smart has something for every motorcyclist in Derbyshire – it doesn't matter where you ride, when you ride or what you ride.

"We've got great features on taking care of your bike, riding gear, group riding and first aid. There's also a wealth of advice about staying safe on the roads. Riding in the countryside demands a different set of survival skills to riding in town so we've included in-depth features on rural and urban riding techniques."

Derby and Derbyshire Road Safety Partnership exists to reduce road deaths and injuries. Members include Derbyshire County Council, Derby City Council, Derbyshire police, Derbyshire Fire and Rescue Service, the Highways Agency local NHS bodies and Peak District National Park Authority.

During the partnership's Easter Sunday Motorcycle Meet in Matlock Bath, riders will be able to learn about Derbyshire BikeSafe workshops and CBT Plus training.

For more details call Andy Adlington on 01629 538067 or 07827 308480. Alternatively you can visit www.bikesafe.co.uk.

As part of a similar campaign, Lancashire Constabulary has released a video made by a roads policing inspector who lost his father in a motorbike collision.

Insp Dave Mangan has created a short film about his father Mike who died following a collision in September 2013 in Somerset while riding from Lands End to Minehead.

The video can be viewed below or on YouTube by searching for 'Mike's last ride'.


17 April 2014 | Amber Sound FM News
Top Five News Items
South Yorkshire Police appeal for help to identify man
South Yorkshire Police are appealing to the public to help identify a man who may hold vital information that could assist with...

Two youths injured in A57 road crash
Police are appealing for witnesses to a serious collision on the A57 Snake Pass in north Derbyshire. At about 10.40am today (Wednesday 16th...

New motorbike magazine launched as part of summer safety campaign
A new free safety magazine for motorcyclists in being launched as part of Operation Focus which aims to reduce rider deaths and...

Sign up now for new summer term of adult education courses
Residents are being invited to sign up to learn something new this summer with our Adult Community Education Service. There are more than...

PCC joins local officers and councillors on a walkabout in South Normanton
Police and Crime Commissioner (PCC) Alan Charles is joining Safer Neighbourhood officers and local councillors on a walkabout in South Normanton to...