Amber Sound News
Green Machine to help combat Heanor Town Centre litter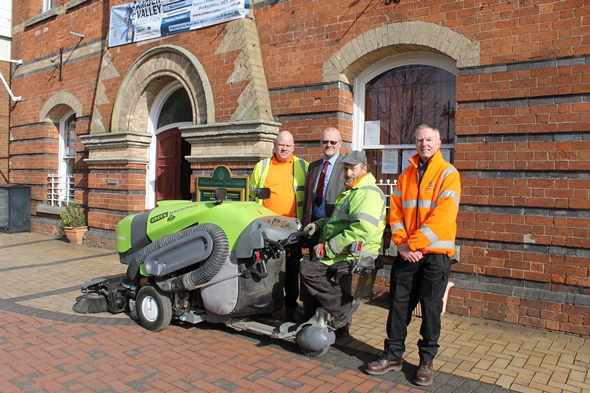 The team along with Council Leader Councillor Paul Jones test out the new green machine

A 'Green Machine' ride-on street sweeper is joining the battle against town centre litter and mess in Heanor.

Amber Valley Borough Council already operates two of the sweepers, one each in Ripley and Belper town centres, and they have proved a great success. The pedestrian pavement machines are powerful and efficient and will allow the Street Cleaner for Heanor to carry out vastly improved sweeping within the town centre.

The sweeper features two rotary brushes, which ensure that litter is swept up and then chopped and collected in a large container. The operator can walk behind the machine or can choose to sit on a retractable seat so that far wider areas can be covered than is currently the case using and old fashioned litter barrow.

The sweeper also features a vacuum attachment that allows it to collect cigarette butts and chewing gum, which tend to collect in crevices and grates, making them impossible to pick up with a broom and which make the town centre look unkempt.

Commented Amber Valley Borough Council Leader, Cllr Paul Jones: "This is a very positive development for Heanor town centre. We have seen the impact these machines can make, in Ripley and Belper, and believe residents and our visitors will notice an immediate improvement in the cleanliness of Heanor's streets."


27 March | Amber Sound FM News
Top Five News Items
Apprenticeships up for grabs
More than 50 apprenticeships are available with Derbyshire county Council as they continue to find opportunities for young people to start their...

Family thank police and paramedics following Ambergate motorbike crash
Police and paramedics have been thanked by a family after they stepped in following a serious collision late last year. 17-year-old Callum Bradley...

Tool accessories stolen in Heanor pub break-in
Burglars broke into a pub that is under renovation and stole workers' tools from inside. The offenders broke into the old Market Hotel,...

Green Machine to help combat Heanor Town Centre litter
A 'Green Machine' ride-on street sweeper is joining the battle against town centre litter and mess in Heanor. Amber Valley Borough Council already...

Police appeal following Belper garage break-in
Police are appealing for information after thieves broke in to a garage at a property in Belper. Overnight between 9pm on Tuesday, March...